Play games on macOS with Auto Clicker, which eases your gaming needs. macOS consists of many security barriers. Barriers such as antivirus programs require a separate set of code to bypass but don't fret because Auto Clicker for MacOS can easily handle it. The Auto Clicker will allow you to keep playing your games, unrestrained by your weariness.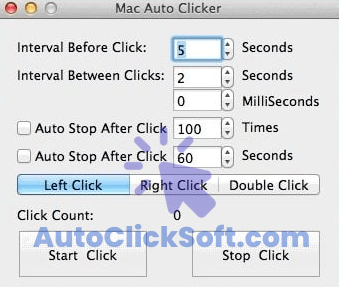 The program aims to enhance your experience with simulation or idle clicker games and does so fluently.
What is Auto Clicker for Mac?
Mac Auto Clicker is software that assists you in automating tedious clicking tasks. This software is beneficial for both gaming and productive software. Auto Clicker for Mac can be used to play idle clickers or competitive games like Roblox and Minecraft.
Auto Clicker works best in clicker or simulation games since they often include constant clicking. Grinding achievements may seem satisfying, but on the other hand, they can be very detrimental to your fingers. The continuous movement can wear them down over time and cause unhealthy conditions such as arthritis.
The Auto Clicker can also be used inside productivity applications to automate complex actions in a few seconds. You will find the application much easier if you can develop macros for specific tasks. With Auto Clicker, you can use keyboard clicks as macros to perform precise click actions.
How does an Auto Clicker for Mac function?
It operates similarly to the Windows and Android Auto Clickers you would need to download and install on your Mac.
With the Auto Clicker for Mac, you will be able to precisely set up positions of clicking with the first option. The application calls this process recording and logs all the valid points you input your clicks. When the program runs, it generates several simulated input items that look like the user would input data inside the host application. With this feature, you can enter a number of click points and key combinations. The program records accurate key and mouse clicks, so you won't have to worry about any mistakes
lick delays are the time lapse between each of your clicks. The shorter this number is, the faster your clicks will be. The amount of time it takes before an image will appear after you have clicked the browser link can be set in milliseconds, seconds, hours, or minutes, depending on your preference.
In addition to this, the application gives you control over the rate of every click. You can add single, double, and triple clicks to your rhythm. Every click rate you set will work like a single click, meaning the delay will be between them. You will be able to change the delay between clicks as well. One-click could be a single, two clicks a double, and three clicks a triple click with Mac Auto Clicker. The count is adjustable, and you can customize the clicking speed to your preference.
Uses of Auto Clicker for Mac
Gaming in Mac
Gaming on Mac is a rare but still enjoyable experience. Now you can play Minecraft and Roblox with a stable configuration. Macs are better for modifying your games. In other words, Minecraft works well with Auto Clicker for Mac, with no performance overhead caused by the script. Roblox also has a similar method of clicking, and you can automate left clicks within the game. It is impossible to create fast macros and macros for any other button than left-click on Roblox. So, ensure you use Auto Clicker for Mac to evade bans on the Roblox servers.
Work in Mac
The Mac is the most productive computer because it runs every application as smoothly as butter. Every developer knows exactly how everything runs on every Mac so that they can design versions corresponding to the different processors' work. Automate data entry tasks and even marketing functions with Auto Clicker for Mac. You record the string once, and the application repeats it until the number reaches a limit.
Creative applications
Auto Clicker allows you to automate specific effects with a series of clicks, unlike some video or photo editing applications with amazingly innovative features that are extremely difficult to find and use. If you don't have experience with automation, you won't have a problem after a few attempts. Automation inside the creative app can reduce the time it takes to create artwork. At a touch of a button, every effect is at your fingertips.
Benefits of Auto Clicker for Mac
Versatile
Auto Clicker for Mac is a multifaceted software program that can execute every single click without concern for errors. Unless the script is faulty or flawed, the Auto Clicker will not execute the wrong script.
Streaks of clicks
Using Auto Clicker, you can automate several productive functions. These streaks will last and repeat until you set a limit for them or if you stop them manually.
Save your scripts
For Mac, Auto Clicker for Mac allows you to save your script combination to use later. Small files are created that are just a few kilobytes long when you click. The script is read and executed whenever you like when you click the clicker.
Auto start and shortcuts
You can also set shortcuts and hotkeys for the app in the settings and create shortcuts for macros. This will help in competitive games where you can push a single button to activate them. Auto Clicker allows you to set click-and-hold limits, so it will stop once you release the key.
Customizability
Almost all features of Auto Clicker can be customized. Its best feature is the ability to adapt to the user's preference.
Also check: OP Auto Clicker, GS Auto Clicker, Android Auto Clicker