Auto Clicker for Minecraft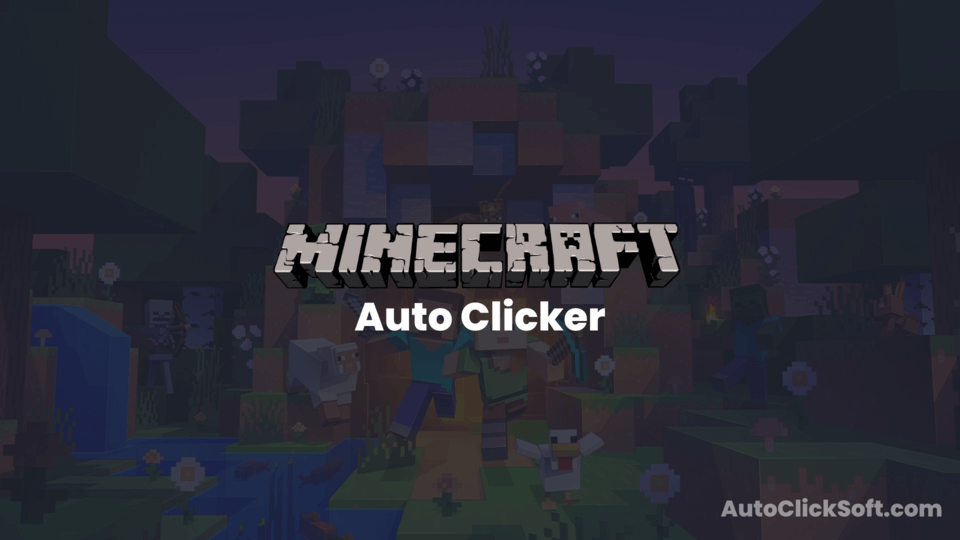 Do you enjoy playing games? Are you an avid gamer? If you enjoy playing video games, you've probably heard about Minecraft. Since its debut in 2011, this game has become one of the most played globally. This online building game, sometimes known as the "Sandbox game," Children and Parents love to play. Since there are no rules in this particular game, kids can build and explore however they like.
Download Minecraft Auto Clicker
What to know about Minecraft Auto Clicker?
We primarily employ the user to use auto-clicker In Minecraft. This is one of the departmental releases that later became the classic version. The user uses this software to break the blocks in the game they are playing. Each player or user must go through the process of breaking blocks at some point to advance.
In the game, you may use it to create tunnels or passages and produce and gather specific materials. This software is essential when you need to move the blocks or clear obstacles from the level you've created. Additionally, this function is automatically activated anytime you need it.
Interestingly, this software can automate while the game is going, among other important uses. This software, in our opinion, is great and entirely compatible. It automates the process, so you don't have to stress yourself clicking repeatedly. After the software has been installed, you can set it up to automatically click by choosing how many times you want it to do so.
How does Minecraft Auto Clicker work?
This auto clicker software is way easier to use, but you must download it from the internet. Despite being virtual, our Minecraft universe has no boundaries. You can procedurally generate it as a player and explore it. You must first download and install our amazing software on your computer before launching it and starting to log the click coordinates.
Users can easily understand when to record click coordinates because we have included all the relevant indicators. The coordinates will be captured once you move the cursor to where you want them to be recorded and press the space key. The recorded portion will be available in the software and screen. The fingers can relax with an auto clicker that enables random automatic selection.
You can employ a similar procedure regardless of how frequently you need to capture the coordinates. You must indicate the required number of clicks during the recording process. You can customize the software's click delay settings. The mouse button you want to automate must be chosen after configuring the settings. These are essential because the following are required for the software to begin automatically clicking.
How can you use Minecraft Auto Clicker
As you are aware, the Minecraft auto clicker is renowned for its exceptional features and distinctive additions, but you would appreciate our software much more due to its user-friendliness. This software guarantees that your experience with Minecraft will be outstanding. The full functionality auto-clicker has so many wonderful functions that you will need.
Installing this software will allow you to save time because you won't have to spend much time sitting still while playing the game and clicking and damaging tools. While playing, clicking the mouse repeatedly to gather resources and discarding some would get boring, but this software will allow you to skip the laborious process.
It enables the player to enjoy their gaming experience and enhances the uniqueness of the Minecraft game. It reduces waiting time and has a feature that keeps the mouse button pressed in the background. Using this software, you may still enjoy Minecraft's creative aspects without going through its difficult setup process.
How does Minecraft Auto Clicker beneficial
We would say that the Minecraft auto clicker has several benefits for Minecraft users.
This software will enable you to customize the clock rate to meet your needs since each job will demand a different number of clicks.
Minecraft auto clicker has a mouse automation tool and is easy to use. You can activate the software with a single click and take full advantage of its features.
You can click as quickly as you like with this software without being concerned about being seen. This auto clicker is unique since it cannot be detected, unlike other auto clickers.
You can use the Minecraft auto clicker with any game version without worrying about compatibility because it is designed for quality use.
It is free; you can use various apps and games to experience a wide range of applications and utilize it with Minecraft.
I hope this post gave you all the information you needed to know about the Minecraft auto clicker and that you fully understand it. Your child's best teacher would be Minecraft. Your child will like sharing new information they have learned, so you should sit down and set aside time for playtime with your child. Why wait if you haven't installed Minecraft yet? Hurry!
Also check: Roblox Auto Clicker, GG Auto Clicker